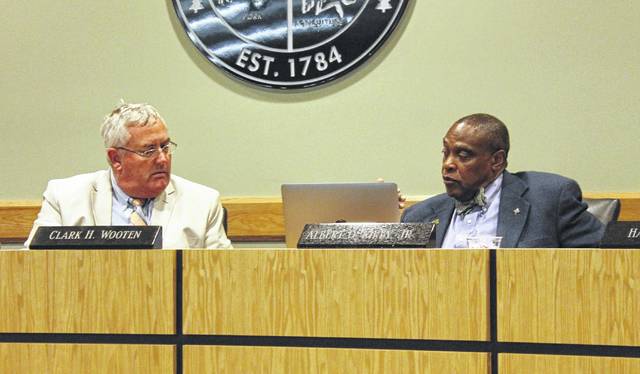 In an effort to save money, Sampson County government leaders will consider consolidation of human service agencies under the county umbrella, as well as implementation of its own planning department, a service currently shared with the City of Clinton.
County manager Ed Causey is expected to give brief summaries on each of the issues at September's Board of Commissioners meeting after being directed last month to look into the matter.
At the tail end of July's regular monthly meeting, Board of Commissioners chairman Clark Wooten asked Causey to investigate the feasibility of bringing human service agencies — the Sampson County Health Department and the Sampson County Department of Social Services — under the county umbrella. He also asked that planning services be examined for cost savings.
"Everything is set in the budget, we want to move forward as we are, but we'd like for you to investigate the feasibility of doing that," Wooten stated, noting a timeline by which a change could be made for the 2018-19 budget.
"I'm not advocating any action, I'm not advocating anything," said Wooten. "I just want to know the feasibility and the effects of doing that. I know there are certainly other counties that have done that. Some talk about savings — I don't know. What gets me is the unknown. Let's dig in and see; let's find out."
In 2012, the North Carolina General Assembly enacted legislation that provided counties with new options for how they can organize and govern some local human services agencies, including health departments and departments of social services. All counties are now allowed, but not required, to create consolidated human services agencies that are either governed by an appointed board or by the Board of Commissioners.
Almost immediately after the law was enacted, several counties began exploring these new options and making changes at the local level. The UNC School of Government (SOG) has tracked those legislative developments, conducted research on organization and governance of local public health agencies and has been provided technical assistance to counties since the law was enacted.
Commissioner Albert Kirby, the senior member on the board, recalled when the legislation was passed and the talks with Causey that followed.
"I think the challenges would have been putting too much on (Causey's) plate bringing the agencies under the county's auspices — dealing with the day-to-day issues," Kirby said. "We were hoping to get the human (resources) position filled so that person would in the position to be the county manager's right hand, in at least addressing day-to-day operations, personnel issues and things of that nature.
Nancy Dillman was hired as the county's HR director in April.
"It's something to look at down the road," Kirby stated of consolidation, noting that he heard Columbus County saw savings from such a move. Wooten noted similar success in Brunswick County, one of the first to engage in such a consolidation.
Causey noted there have been informal discussions among county leaders dating back four or five years about possible consolidation. He concurred that the HR position was a key in any move going forward.
"We wanted to give ourselves the time to ultimately have the human resources position established. The timeframe the chairman has given us will give us the time to fully implement whatever you may choose in an orderly fashion," the county manager said.
Earlier this week, Causey said he would be presenting two items to the board in September based on Wooten's charge to him last month.
The first will be to evaluate what it would take in order for the county to provide its own planning services. In July 2004, Sampson County contracted with the City of Clinton to provide county planning services, an agreement that has remained intact ever since.
"With assistance of several of our departments, I am putting that together right now to give you the best estimate. I am not evaluating whether to do it or not do it; I am evaluating the cost of doing it," the county manager stated.
The second will be an "executive summary" on the county's options for consolidation of its human service agencies.
"I have spent a good deal of time on this already," Causey said this week. " The idea is to present to you what could be done and, at that point, if the board wants to further consider that, then we've arranged for the School of Government to come down and give you a presentation."
The SOG has given similar presentations to other counties. Some 20 counties in the state have moved forward with consolidation since 2012's legislation took effect, Causey noted.
He said there are three basic consolidation plans. Two of them allow for all Health Department and DSS employees to be brought from under the State Personnel Act to the Sampson County's Personnel Resolution. The other plan permits them to stay under the State Personnel Act. No matter what the potential change, it will bring more responsibility for the Board of Commissioners and county administration, Causey noted.
Cost savings is a consideration, but it is not the only one, the county manager said. Customer service and organizational improvement are other factors to be considered, he noted, echoing SOG's instruction.
"There are a lot of nuances to this," Causey said. "I am talking to people who have actually done (the consolidation). I have talked with three counties and I have others I will be talking to."
Often consolidation is sought to bring a more centralized approach to government services. That can also mean costs are cut through the elimination of redundancies. Kirby said his interest revolved around the budget.
"I'm listening for the money," Kirby attested. "The question was going to be whether or not we would be getting a savings from it. I think we can get a great savings."
For his part, Causey said he did not have a recommendation either way at this point.
"I think I'm going to give you information and let you pick and choose," he said.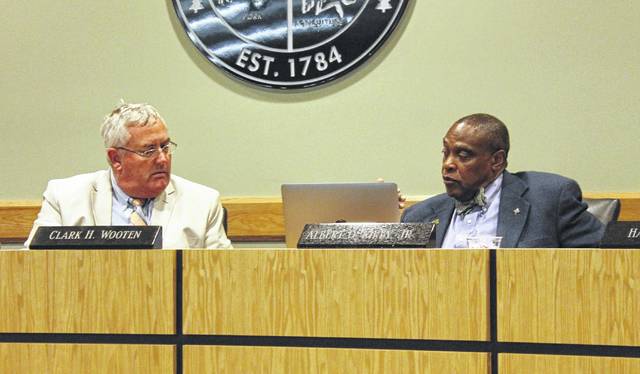 Sampson County Board of Commissioners chairman Clark Wooten, left, talks with Commissioner Albert Kirby during a recent meeting.
Reach Managing Editor Chris Berendt at 910-249-4616. Follow the paper on twitter @SampsonInd and like us on Facebook.